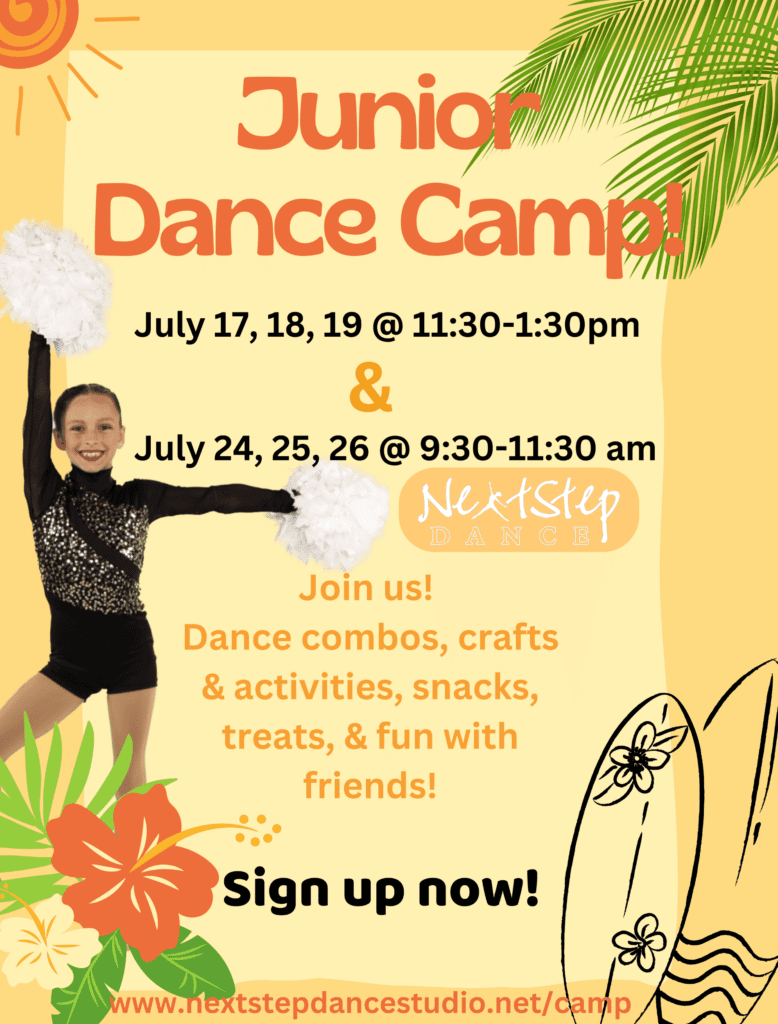 TWO CAMP OPTIONS!
July 17 – 18 – 19, 2023    ~   11:30 am – 1:30 PM
July 24 – 25 -26, 2023  ~   9:30 am – 11:30 AM​
Calling all dancers ages 7 – 14! Get ready for an electrifying experience at our Junior Dance Camp! 
Join us for an awesome camp filled with high-energy moves, dynamic routines, and endless fun! At our camp, we offer an exciting mix of Hip Hop, Jazz, and Pom routines that will have you dancing like a superstar! 
Our experienced instructors will guide you through thrilling dance sessions where you'll learn impressive choreography, master new skills, and express your creativity on the dance floor. From grooving to the latest beats in Hip Hop to bringing sass and style to Jazz routines, you'll be unstoppable! 
But that's not all! Our camp is packed with games, skill-building activities, and creative sessions. You'll have a blast participating in dance-themed games, creating personalized crafts, and engaging in team-building exercises. Plus, we've got snacks and take-home treats to keep you energized and excited!
At our Junior Dance Camp, you'll not only enhance your dance abilities but also make new friends who share your passion for movement and self-expression. It's a supportive and inclusive environment where you can shine and let your unique style take center stage! 
Don't miss out on this unforgettable dance adventure! Register now for our Junior Dance Camp and get ready to unleash your talent, ignite your passion, and dance your way to an incredible summer! 
FIRST:
Create a secure account to register and pay online now!
1. Click the REGISTER NOW button.
2. Create your secure online account (if you are new to Next Step. Returners simply log-in)
3. Select "Summer 2023" to see the camps offered this summer and make your selection.
4. Register for your camps and pay online!
5. Confirmation emails will be sent about one-week before each camp!
LOCATION:
Next Step Dance
2095 Yolanda Ave.
Springfield, OR 97477
PARKING & ENTRANCE:
Please park and enter/exit from the BACK of the building.
This camp will be held in the studio.
TIME:
CAMP JULY 17-18-19
Check in anytime between 11:15 – 11:29 AM
Camp: 11:30 AM – 1:30 PM
CAMP JULY 24-25-26
Check in anytime between 9:15 – 9:29 AM
Camp: 9:30 – 11:30 AM
PARENTS:
Check your dancer in and then return to see their "performance."
We will "perform" the routine we learn that day approximately 10 min. before camp ends.
WHAT TO WEAR:
Dance clothing/PE clothing = shorts and tank top works great! 
Please no crop tops or sports bras only. Please dress in modest dance attire that covers your buns, belly, and chest! 
Athletic shoes or dance shoes please! 
Hair up and back out of face and eyes (pony tail, braid, etc.)
WHAT TO BRING:
Water bottle with your name on it
WHAT TO LEAVE AT HOME:
Toys, games, electronics, stuffed animals, etc. 
Dress up shoes/heels, jewelry that could be a major distraction or safety hazard 
Kids who are not registered/paid for the camp but will want to join in anyway
WHAT TO EXPECT:
Warm-up and Stretch 
Technique and Skills 
Dance Routine (different combo each day) 
Snacks 
Craft/Activity/Interaction 
Take Home Treat​
FRIENDS:
We still have space in this camp!
Thank you for sharing this camp information with your friends!
QUESTIONS?