Acrobatics & Tumbling
CAMP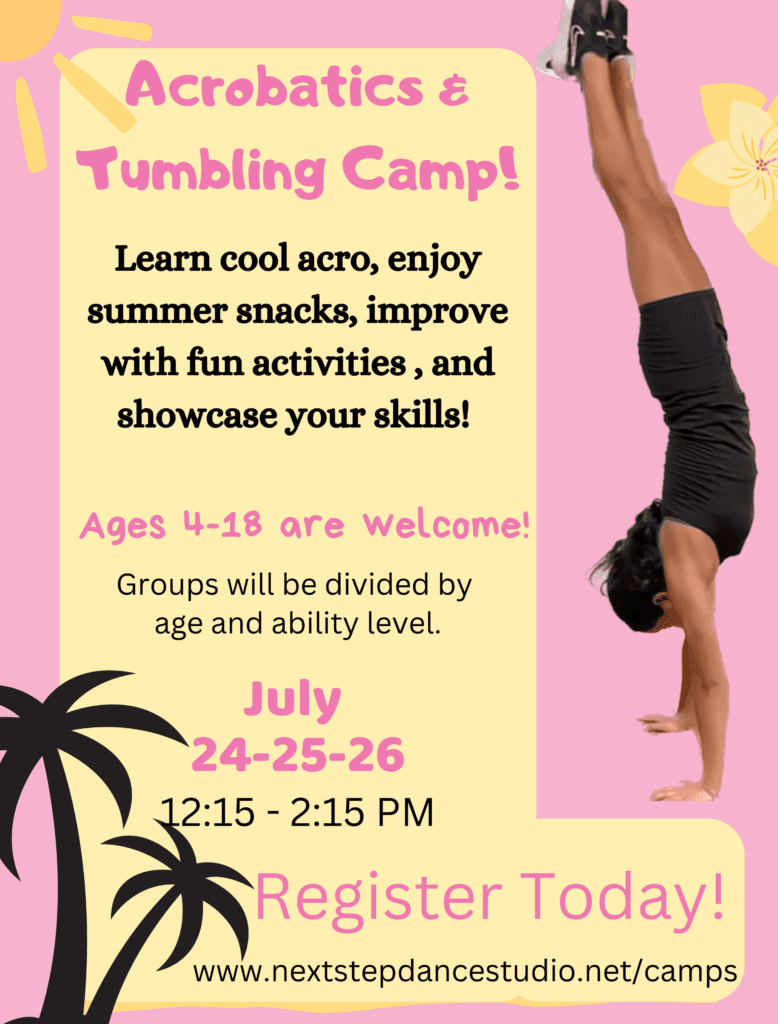 JULY 24 – 25 – 26, 2023
12:15 P.M. – 2:15 P.M.
Calling all young adventurers and aspiring acrobats! This thrilling camp will help dancers unleash their energy and soar to new heights! Join us for three-days of action-packed twists, turns, jumps and gravity-defying fun!
Under the guidance of our experienced instructors, your child will learn the fundamentals of building strength, flexibility, balance and coordination while building foundational skills, playing fun drills, and making new friends! From somersaults to handstands, floorwork to carshweels, every day will be an exciting exploration of new skills!
This camp will be divided into two groups based on skill level and age, serving beginners eager to try acrobatics for the first time, and experienced dancers looking to enhance their abilities. With a focus on safety and progress, we create a supportive environment wehre every participant can thrive and feel a sense of achievement!
So grab your friends and join us for an awesome camp.
FIRST:
Create a secure account to register and pay online now!
1. Click the REGISTER NOW button!
2. Create your secure online account (if you are new to Next Step. Returners simply log-in)
3. Select "Summer 2023" to see the camps offered this summer and make your selection.
4. Register for your camps and pay online!
5. Confrimation emails will be sent about one-week before each camp!
LOCATION:
Next Step Dance
2095 Yolanda Ave.
Springfield, OR 97477
PARKING & ENTRANCE:
Please park and enter/exit from the FRONT of the building.
TIME:
Camp: 12:15 – 2:15 PM
Check in at 12:00 PM
WHAT TO WEAR:
Leotard and shorts or leggings.
CLEAN – INSIDE ONLY Athletic shoes are mandatory!
Hair up and back out of face and eyes (pony tail, braid, etc.)
No jewelry (unless it cannot be removed)
WHAT TO BRING:
Water bottle with your name on it
WHAT TO EXPECT:
Warm-up and Stretch
Skills, Drills, and Games
Tumble mats and tumble track
Activity/Interaction
Take Home Treat
FRIENDS:
We still have space in this camp!
Thank you for sharing this camp information with your friends!
QUESTIONS?