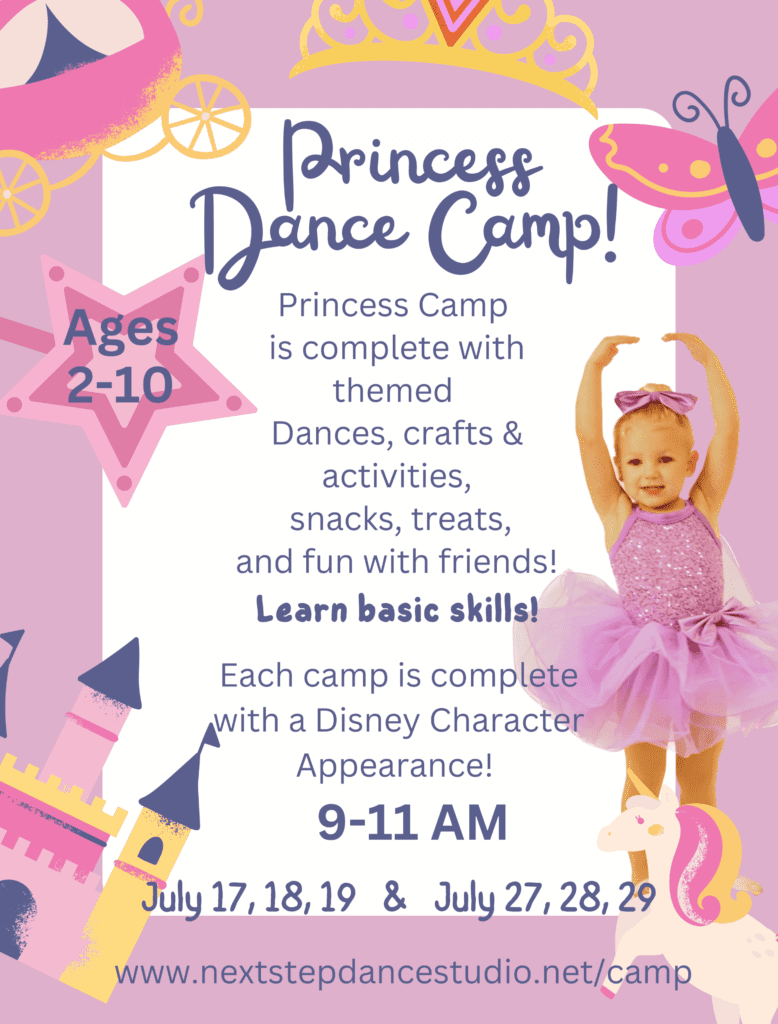 TWO CAMP OPTIONS​
July 17 – 18 – 19, 2023  ~   9:00  AM – 11:00 AM
July 27 – 28 – 29, 2023  ~  9:00  AM – 11:00 AM
Calling all little princesses! Step into a world of enchantment at our Princess Dance Camp! 
Does your child dream of dancing like a true princess? Join us for a magical camp filled with dance, imagination, and royal adventures! 
At our Princess Dance Camp, your child will learn graceful ballet techniques, twirl with joy in charming waltzes, and even groove to upbeat princess-inspired routines. Our experienced instructors will guide them through the enchanting world of dance, helping them discover their inner princess and nurturing their love for movement. 
But that's not all! Our camp is a treasure trove of princess-themed activities. From delightful crafts and activities to storytime and character-inspired games, your child will immerse themselves in a world of fantasy and creativity. They'll make new friends, build confidence, and create memories fit for a fairy tale. 
Join us at our Princess Dance Camp, where dreams come to life and every little dancer becomes a princess. Don't miss this royal opportunity! Register today and let the magic begin! 
FIRST:
Create a secure account to register and pay online now!
1. Click the REGISTER NOW button
2. Create your secure online account (if you are new to Next Step. Returners simply log-in)
3. Select "Summer 2023" to see the camps offered this summer and make your selection.
4. Register for your camps and pay online!
5. Confrimation emails will be sent about one-week before each camp!
LOCATION:
Next Step Dance
2095 Yolanda Ave.
Springfield, OR 97477
PARKING & ENTRANCE:
Please park and enter/exit from the BACK of the building.
This camp will be held in the studio.
TIME:
Check in anytime between 8:45-8:59 AM
Camp: 9:00 AM – 11:00 AM
PARENTS:
Please stay if your dancer will express sadness or anxiety over your absence. 
Please stay if your dancer is not 100% capable of using the restroom on her own. 
Parents are welcome to stay and watch! 
We will "perform" the routine we learn that day at 10:50AM
WHAT TO WEAR:
Dance clothing/PE clothing/Play clothing and/or any Princess dresses or outfits 
Athletic shoes or dance shoes please!
WHAT TO BRING:
Water bottle with your name on it
WHAT TO LEAVE AT HOME:
Toys, games, electronics, stuffed animals, etc. 
Dress up shoes/heels, jewelry that could be a major distraction or safety hazard 
Kids who are not registered/paid for the camp but will want to join in anyway
WHAT TO EXPECT:
Warm-up and Stretch 
Technique and Skills 
Dance Routine 
Snacks 
Craft/Activity/Make Believe 
Take Home Treat 
FRIENDS:
We still have space in this camp!
Thank you for sharing this camp information with your friends!
QUESTIONS?